Ira McDonald Construction Ltd. is committed to ensuring a safe work environment for all employees, sub trades and clients. Safety is a value that we are most proud of and will continue to work on as part of IMC's continuous improvement.
IMC had the pleasure of recently being recognized for our continual safety efforts at an annual event held by the Ontario General Contractors Association (OGCA).  We were thrilled to receive our latest 'Distinguished Achievement in Health & Safety' Award.  The certificate illustrates our 25 years / 767,211 Hours of achieving a Zero Injury Frequency (1990-2015).  IMC was delighted to share this moment with the over 150 people who attended the event, held at the end of September.
Also presented during the event were League of Champions jerseys and charters to the latest members of the league by Rob Ellis, Frank Perricone, and Chief Prevention Officer and Minister of Labour Kevin Flynn.  Another proud safety milestone for IMC is the honour of being welcomed as one of the League's first members, earlier this year.   The League of Champions program is an Ontario General Contractors Association (OGCA) initiative in conjunction with MySafeWork to promote a safety culture and build awareness in industry.  Rob Ellis of MySafeWork has been an inspiration to our team and an instrumental tool in our quest for COR Certification.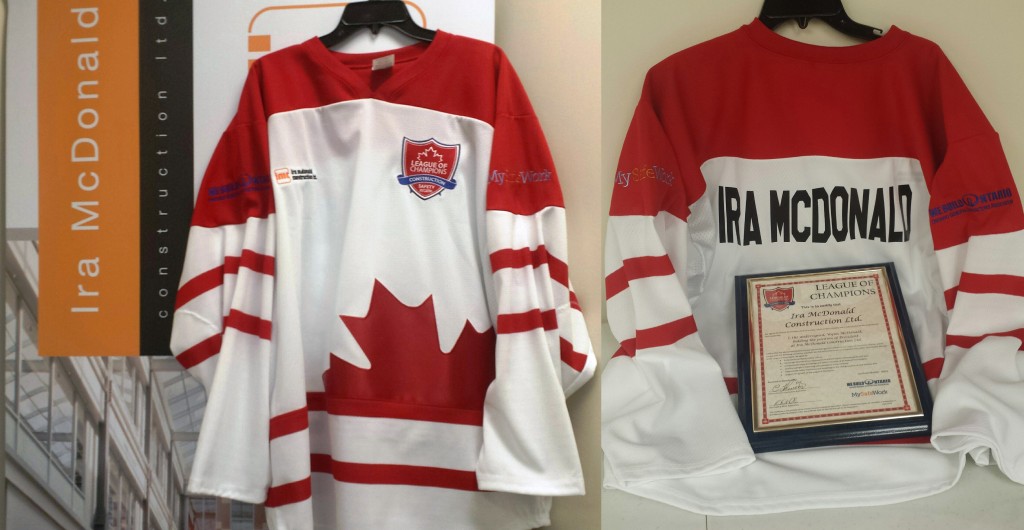 Ira McDonald is proud of our commitment to safety and our 25-year record of no lost time injuries.  We are passionate about workplace safety, and remain committed to our goal of NO ONE GETS HURT.
For more information email or call our Health & Safety Department at 905-297-4653 ext. 45.